SUSTAINABILITY IN SPC
Sustainability at St. Paul's College
Welcome to the Sustainability webpage of SPC. Here you'll find information about how we are contributing to a more sustainable future. With the aim of being a leading school in sustainability in Hong Kong, we have pledged to play a pivotal role in confronting the challenges of global sustainability through environmental stewardship.
Our sustainability strategy
Our Sustainability Strategy guides our commitment to building a sustainable campus, and integrating Education for Sustainable Development (ESD) into our curriculum so that the SPC community can take actions for contributing to the 17 United Nations (UN) Sustainable Development Goals (SDGs).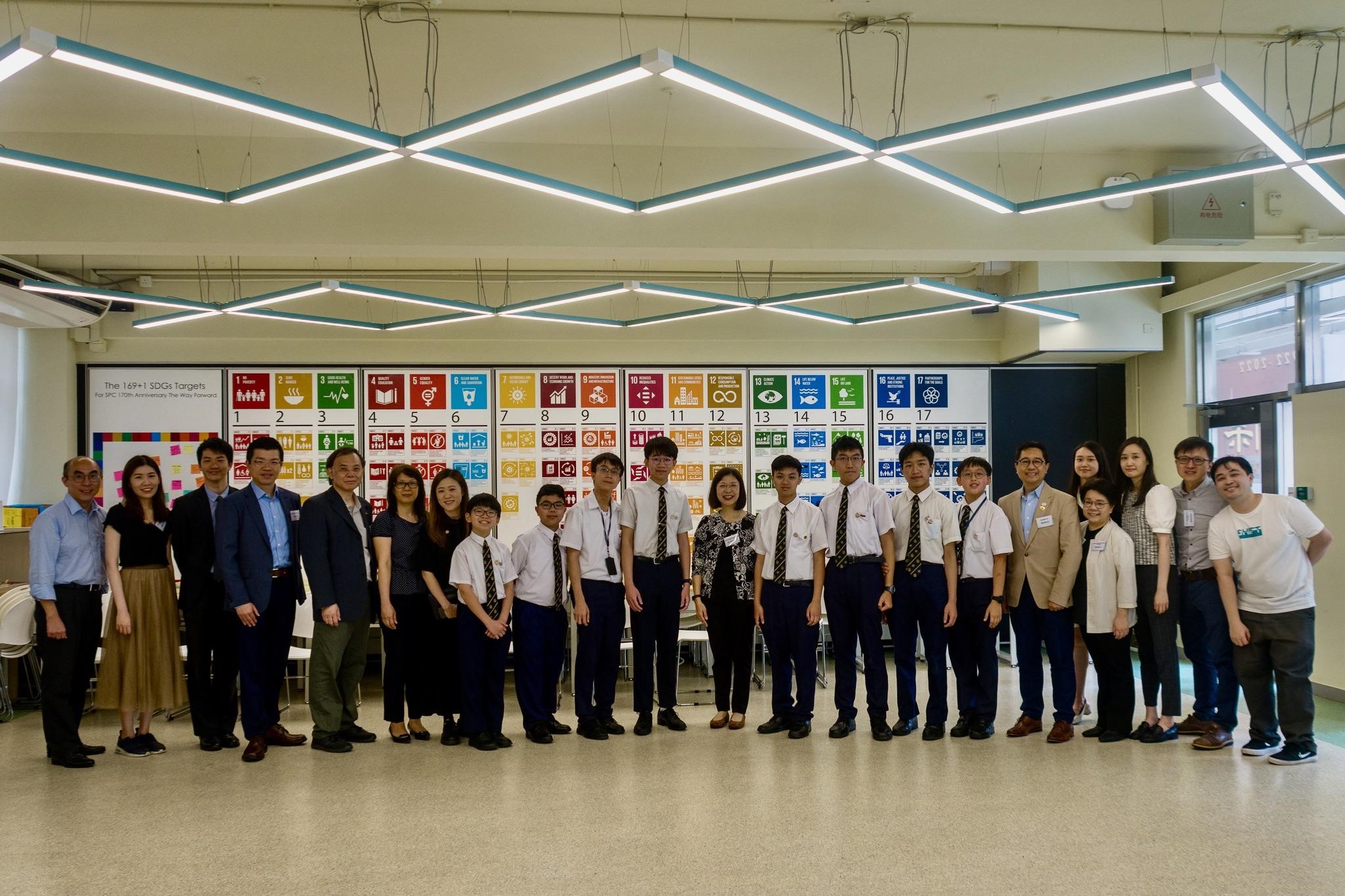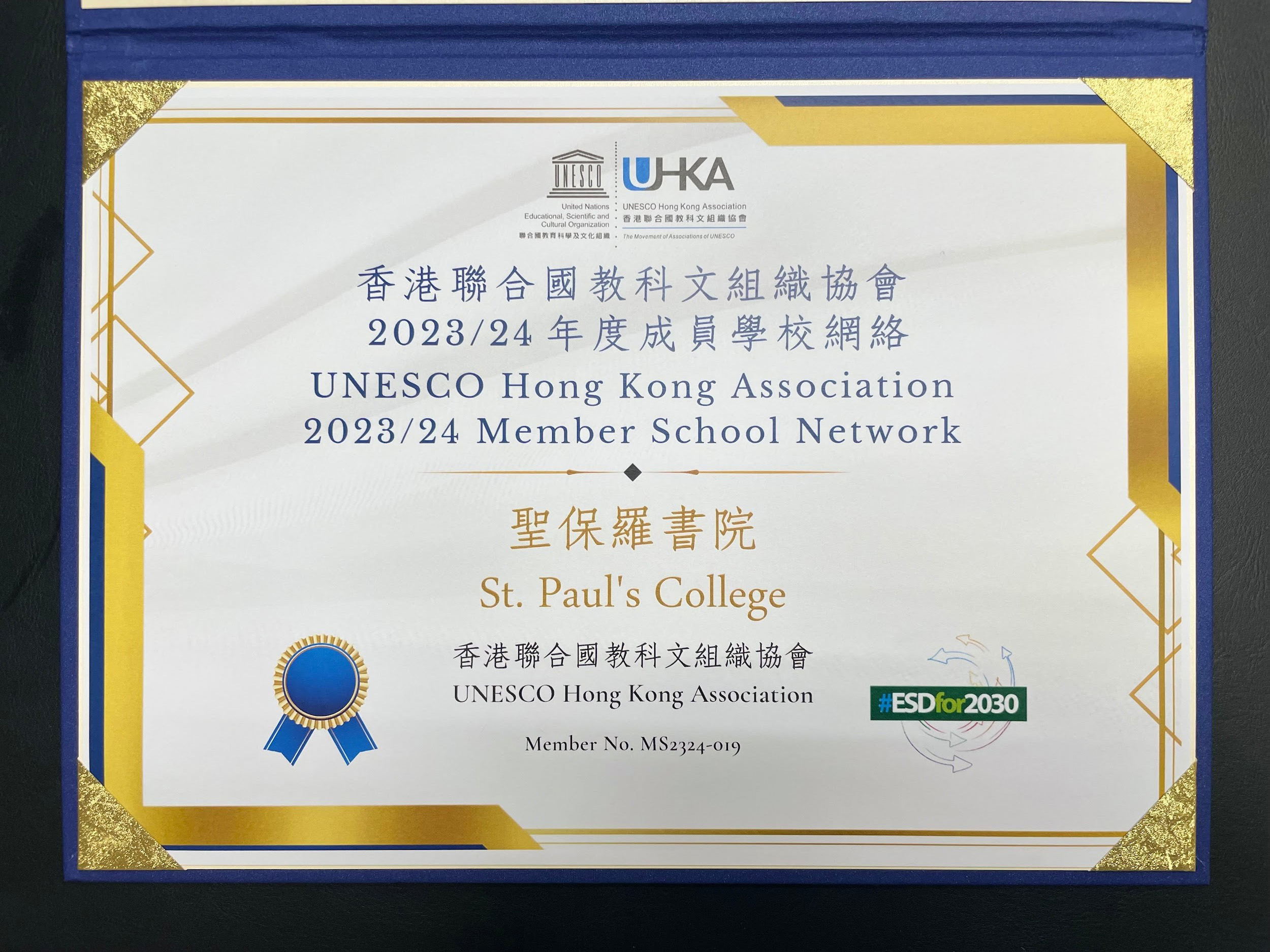 SPC SDGs Action and Awareness Newletters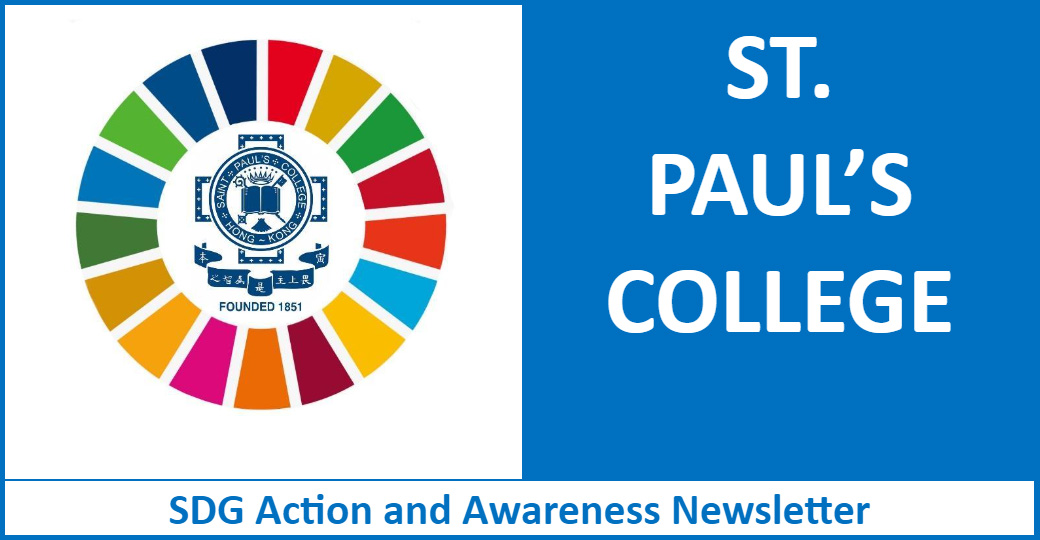 Our achievements
Hardware: Building a Sustainable Campus
Green Campus
(i) "Jockey Club BEAM Plus in Schools Projects" organised by Hong Kong Green Building Council and Business Environment Council
| | |
| --- | --- |
| | |
The College joined the "Jockey Club BEAM Plus in Schools Projects" organized by Hong Kong Green Building Council and Business Environment Council. The project instilled the concept of green building, helping students and staff members to reduce our carbon footprint by installing light sensors, LED lights, tap aerators and inverter air-conditioners. Experts in green education also organised learning activities for our students and assisted the College in conducting a green audit. The College was honoured to be one of the three pioneer schools in Hong Kong to receive the BEAM Plus Existing Schools outstanding certificates in the categories of i) Sustainable Leadership and Learning, ii) Sustainable Campus Environment, and iii) Health, Comfort & Happiness. These awards recognise our endeavours in sustainability development, green education, and driving behavioural change through education. The Green Rating certified by the Hong Kong Green Building Council Limited will be valid for 5 years, until 2027.
(ii) "UNESCO Hong Kong Association Towards Net-Zero School Project" organised by UNESCO Hong Kong Association and funded by the Sustainable Development Fund
Solar Panels
70 solar panels were installed on the rooftop of the new classroom block in Phase I and II. These panels were fully funded by the "Solar Harvest" scheme, a Government programme promoting the development of local renewable energy. The College also joined the Feed-in Tariff (FiTT) Scheme to generate 18,000kWh of electricity a year. The FiTT payment supports the ongoing operation and maintenance of the system, as well as environmental education programmes for students.
Air Quality Sensors
Indoor air quality (IAQ) is known to affect our health, comfort, and well-being. The College has been closely monitoring the levels of PM 2.5, PM 10, CO2, HCHO, and TVOC inside staff rooms, classrooms, and special rooms. Air Quality Sensors have been installed inside all classrooms to monitor indoor temperature, air particles, and gases remotely through mobile apps. Air purifiers were also installed in all classrooms and staff rooms to protect the health of students and staff members.
Green Policy
The school-based Green Policy was established in 2020 to raise awareness of environmental protection among all staff members, students, and parents. The Green Policy is a milestone for stakeholders to adopt a whole-school approach to sustainable development. Students, staff members and parents collaborate with one another to save energy, resources and water by implementing pledges. Pledges for green procurements and resources conservation on campus will have a huge impact on the environment.
Software: Cultivating sustainable and green future leaders
Whole-school Education for Sustainable Development (ESD)
(i) Common Core - Extended Study in Senior Forms (F.4-5)
This is a two-year school-based supra-curricular program that ensures that every senior student develops personal experiences above and beyond the conventional syllabus in terms of skill, knowledge, and attitudes and values. It aims to:
provide a practical preparation for undergraduate

research** (Skill)

create an opportunity for students to investigate a topic of personal interest, which relates to one of the student's elective subjects, and take

the interdisciplinary approach of an extended global study (Knowledge)

develop global sensitivity - a sensitivity to local phenomena and experiences as expressions of developments on the planet and cultivate global self - a developing perception of self as a global actor and

member of humanity, capable of making a positive contribution to the world (Attitude and Value)
** An extended study can be undertaken as one of the assessment tasks of the new Common Core in senior forms, where students carry out an in-depth interdisciplinary study of an issue of contemporary global significance in Form 4 and 5, across at least two DSE subjects (Citizenship and Social Development + One of the elective subjects in DSE).
+ Specialised Programmes for Students
(ii) Project Ace in Junior Forms (F.1-2)
The Sustainability in Education Team with UN SDGs Certified Teacher Training
The Sustainability in Education Team helps develop the education for sustainable development at SPC. SPC is a member school in the UNESCO ESD Schools Network, and will become a member school of UNESCO ESD Experimental Schools in the future. The team is composed of six teachers, all of whom have completed the UN SDGs Certified Teacher Training.
Student Sustainability Society
The Student Sustainability Society is a student-led society in helping the college community in meeting its sector-leading sustainability commitments.
Sustainability Ambassadors are trained to:
create inspiring sustainability projects,and engage community development techniques;
carry out projects related to local sustainability priorities, issues and initiatives; and
strive to design engaging content which is inclusive and reflective of our diverse global community.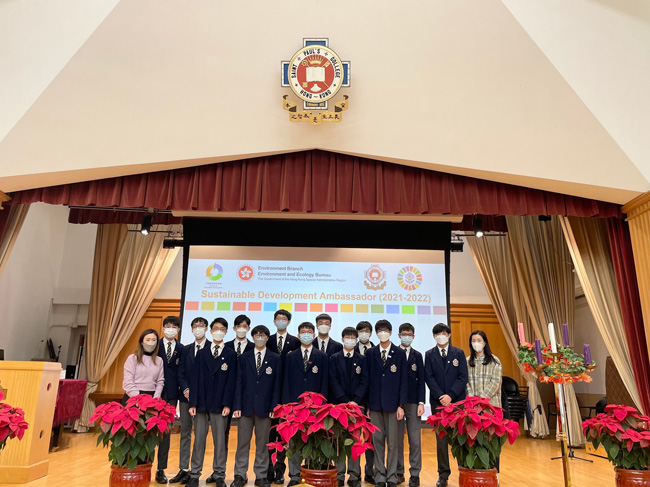 Members of the Society will have the opportunity to:
study sustainability and gain inspiration from creative initiatives from the Sustainability Ambassadors within our college campus and the local community;
develop their skills in project management, sustainability, teamwork, and communications; and
become enthusiastic about sustainability issues and ready to help make this change possible.
Alumni Lecture Series
Community-based Actions and Awards
2022-2023 "Towards Net-Zero School" Project of UNESCO Hong Kong Association
Sustainable Development School Award Programme (2021-2022 Community Project Award) by Council for Sustainable Development
Sustainable Development School Award Programme (2010-2020 School Project Award) by Council for Sustainable Development
Racially Friendly Campus Award 2023 by Equal Opportunities Commission
Peace School Programme Award 2022-2023 by UNESCO Hong Kong Association Glocal Peace Centre
Second-runner up, The Most Active Participation UNESCO Peace School Award 2021-2022 UNESCO Peace School by UNESCO Hong Kong Association Glocal Peace Centre
Most Supportive School Award of ARUP Video Competition 2023 by ARUP
Software: Forming Partnership with Different Stakeholders in the Community
Green Initiatives in the School Community
Different school organisations have been putting forward creative ideas to share green responsibilities and commitments. Traditional spotlights for the College Badge on the South Wing Building were replaced with three solar lights to make good use of renewable energy. Wooden umbrella racks were turned into umbrella dryers to reduce the consumption of plastic bags. The PTA organises the Campus Service Project every summer to repaint and recycle furniture. The Green Club looks after the green corners on campus to improve greenery at the playgrounds and on the rooftop. The Student Sustainability Society coordinates SDGs Action and Awareness Month to take student-led actions on inclusive campus, electricity-saving campaign, waste-management programme, and greening workshop for the school community and local community.
Collaboration in the Local Community
"Plastic Free" School Campaign Launching Ceremony co-organised with Environment and Ecology Bureau, 30th April , 2023
Understanding Marine Ecology and Conservation co-organised with Environment and Ecology Bureau and Hoi Ha Marine Life Centre, 10th July , 2023
Media Coverages
香港學校│聖保羅書院 以17個可持續發展目標 擴闊學生世界觀
UNESCO Hong Kong Association Towards Net Zero School
2023 HK-GBA Secondary School Model UNESCO Conference on World Heritage